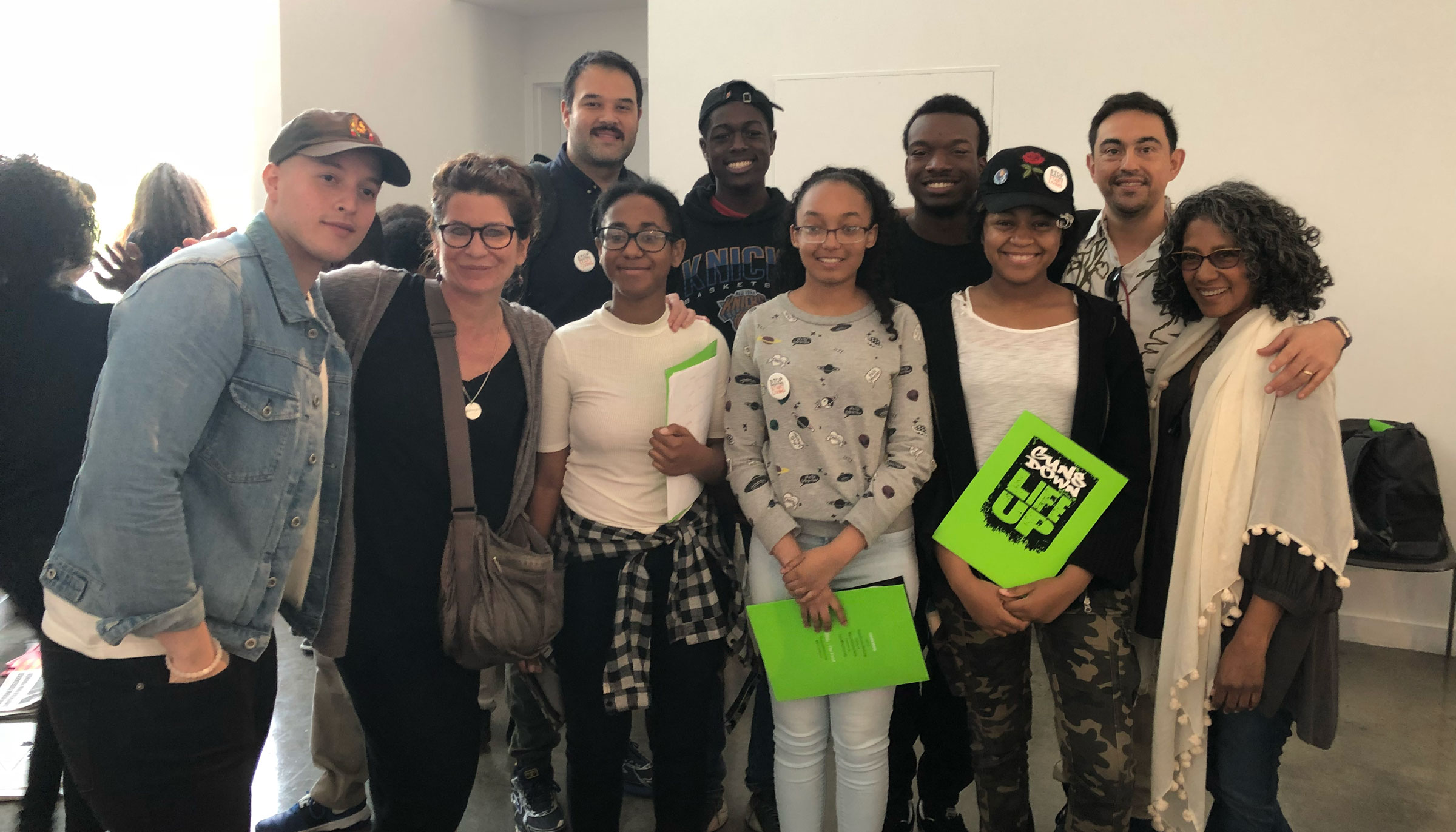 Education & Empowerment
Community Storytelling Workshops
We believe that seeing one's life reflected on the stage affirms the dignity and humanity of all people, enriching the life of our communities by allowing us to better understand ourselves and one another. To that end, community storytelling workshops and creative residencies are central parts of our mission. 
Houses on the Moon offers workshops as either a stand-alone service or to accompany any of our shows. Each workshop uses interactive theater techniques to dramatically bring issues to life in a dynamic, hands-on experience and can be adapted to the campus or the workplace. You can choose from an existing roster of topics or we can design a curriculum to fit your needs.
Creative residencies are facilitated in schools, community centers or any other organization or venue that invites us to their space. During these residencies, we facilitate storytelling workshops and present free performances of our productions in non-traditional venues to inspire community dialogue around the complex social issues of our time, and to reach audiences that don't or can't travel to see theater. 
By building productions for touring, we have been able to bring our storytelling workshops and creative residencies in venues across the United States and internationally. Some of these venues have included schools (University of Colorado, UT Austin, New England Law, Arizona State University, NYU Law and more), hospitals (Elmhurst Hospital, Metropolitan Hospital Center, Mt. Sinai) and national festivals and conferences (InterNational Prisoners Family Conference, National Gay and Lesbian Theatre Festival).
For more information about how to contract Houses on the Moon for a storytelling workshop with your organization, or have one of our productions presented for your community, please contact our Community Outreach Liaison at [email protected].
---
Podcasting Residency
In the fall of 2021, Houses on the Moon teamed up with History UnErased to facilitate the Youth Equity Podcast training program–designed to help NYCDOE middle and high school students express, shape, and share remarkable stories from their lives. We believe real human stories spark transformation and that students' unheard stories have the power to create real change in our world. 
Podcasting training sessions will run from January through May 2022 and the Youth Equity Podcast pilot series will launch in June 2022.
This programming is funded by the NYC Council.
The podcasting training sessions foster youth empowerment and employ a dynamic mix of conversation, storytelling, creative writing exercises, and games to guide students in the development of a new podcast series exploring equity and inclusion in their worlds. Facilitators with Houses on the Moon will provide additional dedicated, periodic follow-up creative work sessions to support student podcasting teams with additional instruction in interview technique, script-writing, story and sound editing, recording, and music and sound design.
---
Educational Programming
For many years, Houses on the Moon has facilitated two educational programs through city-funded initiatives. The first is our artistic residency at Pan American International HS in Elmhurst, Queens – funded by the Cultural Immigrant Initiative – which utilizes our critically acclaimed documentary play DE NOVO to explore issues of youth immirgration and gang involvement. ​​
Since 2015, Houses on the Moon has also partnered with Hostos-Lincoln Academy in the Bronx to facilitate a multi-week creative residency program, which leads students through a series of modules on playwriting, storytelling, performance, video creation and more. This residency culminates in Tales From The Moon, our annual showcase of student-created work.
Both of these programs have moved online since the pandemic and have continued to create impact in students' lives.